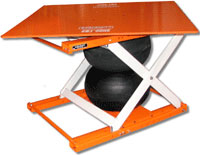 Rotating Top
A rotation package allows easy access to all 4 sides of the material, improving ergonomics while loading and unloading. Spring detents are also an option for fixed stop points.

Options Offer Flexibility
Any option can be easily added to an A-Series Lift. If your needs change, you can remove one option and add another, without replacing an entire lift. This can drastically reduce future equipment costs.
Additional Options Include: