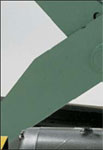 Contoured Legs
With extra width at the pivot point, Southworth's contoured legs combine great strength with lower collapsed height.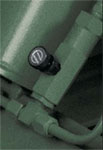 Adjustable Flow Control
Pressure compensated flow control valve with lock out. Preset and locked at 10 F.P.M. maximum lowering speed per ANSI Standard, MH29 where applicable.
Heavy-Duty Torque Tubes
Torque tubes minimize platform twisting and deflection for high degree of rigidity and stability.